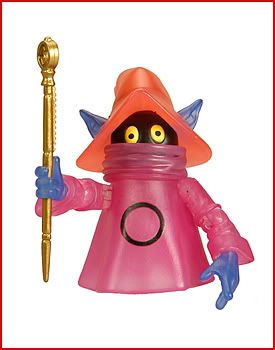 This is the SDCC exclusive Orko. He appears translucent until you dip him in hot water and his colors fade out, leaving him clear except for his face and the O on his chest. This version will NOT be available on Mattycollector after the show in July.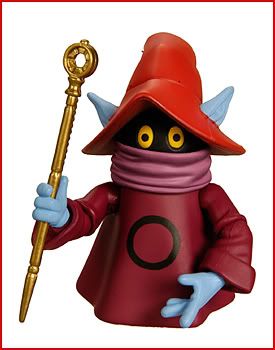 This one will be available on the website after the show. Bother versions will be packaged with Prince Adam as an accessory. Speaking of which...



Here's Adam! Complete with magenta power sword and lackadaisical grin. His vest is sclupted, not felt like the original.



They squished Adam in the bottom of the box. That's a little odd, but okay. the packaging is the same for both versions, but the one pictured is the one that will not be sold online after the show.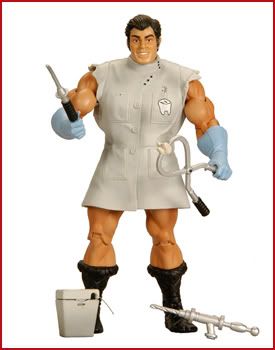 A better picture of Mo-Larr.... in all his... "glory."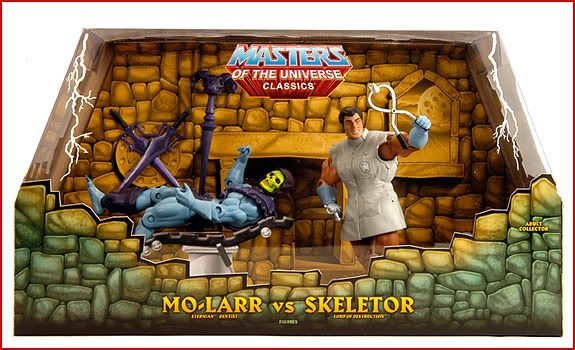 They did a really good job on the packaging. The chair Toothless Skeletor is reclining in is cardboard and a part of the packaging. I must admit that the packaging does make it look really good.

SDCC is scheduled for July 22 - 25. The exclusives shown (except the color changing Orko) will be available sometime in the few days following the convention. As soon as the date(s) are announced you can bet I'll have them right here for you.
Current Mood:
excited